AN EDIBLE HISTORY OF BARCELONA
I've been leading walking food tours of Barcelona since 2013. There's no better way to get to know Barcelona than with me, one bite at a time!
The goal of my tours is to help people understand the intriguing history of Barcelona through one of the city's greatest assets: its food!
This is not a "tapas crawl" where you pay by the plate, nor is it a scripted route with a set menu. My tour is a 'guided dining experience', and it's all-inclusive. Coming from the USA and finding a niche as a recognized food writer, food photographer, travel blogger/Instagrammer, and gastronomic tour guide has given me a unique perspective on life and culture in Barcelona, and I love to share this side of the city with hungry visitors.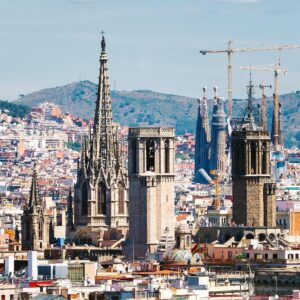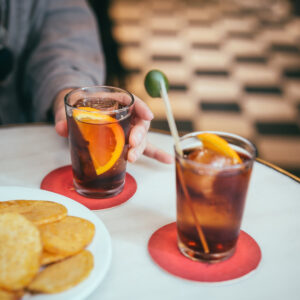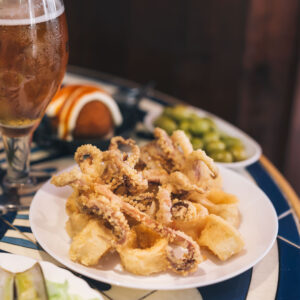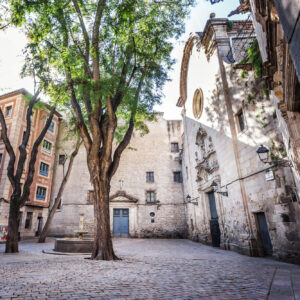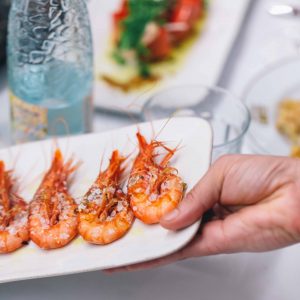 A GOURMET HISTORICAL WALKING TOUR
Over the course of the tour, we will eat in four distinct styles of bars and restaurants and move at the pace that feels right for you as we savor a wide variety of dishes. At each restaurant, we will be tasting tapas and local specialties, as well as some of my favorite foods from other regions of Spain.
This tour is about food, but food and history go hand in hand! We will walk the streets of Barcelona's three oldest neighborhoods — Raval, Gòtic, and Born — and explore the amazing 2,000+ years of history that have left their mark on everything from the city's architecture and name to the very wine we drink.
As we walk through Barcelona's Casco Antiguo (Old City), you'll hear anecdotes about local art, architecture, Roman history, medieval kingdoms, Catalan culture, iconic recipes, and Barcelona's best food markets — any topic is fair game!
I have dedicated myself to learning as much about this amazing place as possible, and I love nothing more than sharing this knowledge over a glass of wine and some excellent tapas!
Come taste my city on the Best Tapas Tour in Barcelona!
TOUR HIGHLIGHTS:
Four restaurants over the course of 4 hours
Many stops at points of special artistic, architectural, historical, and culinary interest between restaurants.
A walking tour through the heart of the Raval, Gòtic, and Born neighborhoods of Barcelona, full of historical, cultural, and gastronomic anecdotes along the way.
HOW DOES IT WORK?
I personally select all the food and wine at each stop, catering to any dietary restrictions or desires, and describe each dish as we enjoy them.
All food and drinks are included in one, all-inclusive tour price.
TOURS TYPICALLY INCLUDE:
Traditional Tapas

Fresh Mediterranean Seafood

Local, Meat-Based Dishes
Local, Vegetable Dishes

Artisan Cheeses

Artisan Cured Meats

Local Olives and Olive Oil

Fine Spanish Wines

Artisan Vermouth

Champagne-Method Sparkling Wine (Cava)
Water

Pastries and Sweets

Chocolate

And More!
TESTIMONIALS FROM HAPPY CLIENTS
Sam is a great host and wealth of information on Barcelona's gastronomy scene and history. He gave us personalized recommendations that truly enhanced our visit!
Eric & Christina Webb – Boston, MA USA
Our Barcelona Food Experience was nothing short of exceptional. Sam seamlessly wove the city's rich history and vibrant food scene into an unforgettable evening. Whether it's your 1st or 15th time in Barcelona, Sam's passion for the city and its food will teach you what it truly means to live and love life in Barcelona!
Abby Bisi & Casey Martin – Brooklyn, NY & Chicago IL USA
Was looking most forward to trying the food and ended up enjoying ALL of it, PLUS the added bonus of a very informed history lesson! Sam did an incredible job keeping us informed on food and culture.
Meaghan Alexis – Holliston, MA USA
Sam's passion for the city and it's diverse food culture made Barcelona more exciting with every step and every bite! It was an experience that I hope I never forget!
Katie Mellott – Cinncinatti, OH USA
Sam's tour was definitely a highlight of our trip to Barcelona! He is full of knowledge about Barcelona's history and food culture. If we wouldn't have met him on the first day, we would not have known where to go for the rest of the week… His recommendations made our trip worthwhile! I would highly recommend his tour to anyone visiting Barcelona for the first time!
Heather Moore – Nashville, TN USA
Fun, delicious and unique! Five stars!
David & Becky Dempsey – Charleston, NC USA
We spent a week in Barcelona and our food tour was the highlight of the entire week. We tasted some incredible food with new flavors that highlighted the city. The combination of the history that Sam shared as we walked through the city was a perfect complement to creating an enriching experience. We loved the spots Sam took us so much that we went back to a couple for seconds!
Anna Norregaard – Denver, CO USA
Begin our trip with Sma's thoughtful introduction to the city was the best decision we could've made. He not only introduced us to the food and drink culture but also the fascinating history of the area and took us off the beaten path to create a local and customized experience for us. Sam's engaging and fun to be with while taking his job as a guide seriously. If you're looking to get the true, unique flavor of Barcelona, this is the way to go!
Sarah & Jeff Nichols – Baton Rouge, LA USA
HOW TO BOOK A TOUR
Send a message via my contact form with details about your travel dates, group size, and any special requests, and I'll reply with a detailed tour outline and pricing!
I have over 6 years of experience leading bespoke tours, and I still tailor each experience to my client's needs and desires! Prices are competitive with the other premium experiences in the city, and my tour is guaranteed authentic and memorable!