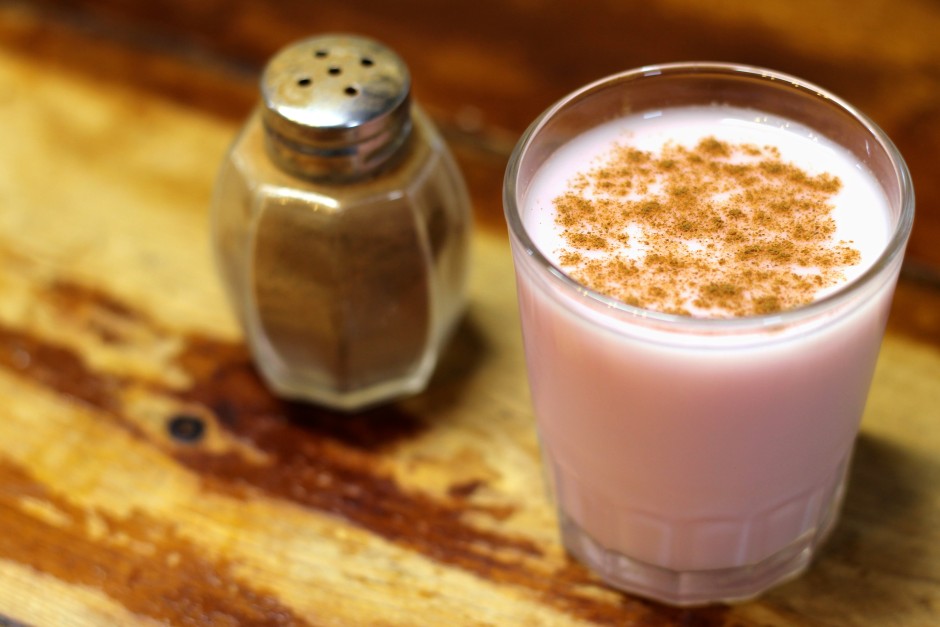 It's one of those culinary mysteries worthy of a good detective: namely, how did a drink the color of Pepto-Bismol become one of Barcelona's most iconic libations?
The story begins around 1975, when the bar La Barretina – then a hot spot, now long gone – began serving leche de pantera ("Panther Milk"). This milk-and-liquor concoction, with roots that can be traced to the Spanish Foreign Legion, was so strong that the hordes of students who flocked to this port-area alley along Barcelona's Carrer de la Mercè would literally spill their guts nearly every night across the wide flagstones that separated the bar from its neighbors. La Barretina (the name refers to the traditional red Catalan cap) was opened by a former Spanish Legionnaire, and at its peak churned out vats and vats of this chilled drink, which were drained dry nearly every night.
"The bar was right across the street from this one, and the drink he was making was too strong. I didn't like his method," Cayetano Casco, owner of Tasca El Corral, told us. "So, I decided to make my own. I didn't want to compete with my friend, so I made mine pink!" And thus, the famous "Pink Panther Milk" of Carrer de la Mercè was born. Far less powerful and much more pleasant, Leche de Pantera Rosa is still a big seller some 30 years after Casco concocted his first batch. He always makes 8 liters at a time, with very exact proportions of each ingredient.
Toasting with leche de pantera at Tasca El Corral, photo by Sam ZuckerHowever, it wasn't the owner of the fabled La Barretina who invented this surprisingly delicious potion. The history of leche de pantera can be traced back to the 1920s, when General José Millán-Astray – the head and founder of the Spanish Foreign Legion, Spain's elite military unit – searched for a drink that was "cheap and easy to make and serve in any situation" (while encamped in North African deserts, for example). Legend has it that General Millán-Astray approached Perico Chicote of Bar Chicote in Madrid to take up this challenge. Chicote was a barman at the Ritz Hotel and, after having several delicious-yet-complicated drinks rejected, he finally pleased the general with a simple, nourishing mix of ingredients that travel well: condensed milk, gin and water. Bar Chicote has since been converted into the concert venue and club Museo Chicote – an homage to a man who was once the most famous bartender in all of Spain.
Skeptics discount the Perico Chicote story, though, and claim that Panther Milk evolved from within the Spanish Foreign Legion itself, when soldiers confined to infirmary beds would discretely mix medical-grade alcohol with condensed milk to ease their way towards recovery. When soldiers weren't confined to their sickbeds, they began mixing gin – or any other spirit on hand – with shelf-stable condensed milk. Some colorful accounts suggest that, while posted in the Sahara Desert, the Legionnaires used rum or whiskey instead of gin, and that in Spanish Morocco they would add kifi (marijuana) and gunpowder, removed from cartridges and sprinkled across the milky surface as a show of bravado. These days they sprinkle a less dramatic garnish – ground cinnamon. One tavern owner and former Legionnaire has been humorously quoted in a Spanish publication denouncing these vacuous rumors. "Putting hashish or gunpowder in leche de pantera would be like adding meatballs. It's an atrocity!"
"Why is it 'Panther' Milk?" we asked Casco at Tasca El Corral.
"Panthers are fierce," he said matter-of-factly.
"Why did you choose pink?"
"I don't know."
"What makes it pink?"
"I don't know," he repeated, with a wink. Even if the recipe turned out to be just four ingredients, he surely would never tell us.
Even so, with a couple clicks on the Internet, one can find a generally accepted breakdown of what comprises a real (non-pink) leche de pantera: two parts condensed milk, one part gin and ice.
Abraham Wennberg, of the famous L'Ovella Negra tavern, was more willing to share his recipe. "A lot of old Legionnaires come in here," he told us. "But now young people are drinking [leche de pantera] too." Apparently, Panther Milk fell into obscurity for decades until just 10 years ago, when college kids started drinking it again, with a vengeance. "People don't realize how strong it is," Wennberg laughed. "We make ours with gin, brandy, fresh milk to keep it thin and condensed milk for sweetness."
For true authenticity in presentation, one must dust the top of each glass with powdered cinnamon. And as for what makes it pink, that remains a mystery.
For those interested in investigating further, these three spots serve real-deal leche de pantera:
Tasca El Corral
A classic Asturian bar with traditional tapas and drinks, this is a great place to eat well, with legs of Spanish ham dangling overhead. Leche de pantera (both white and pink) is sold by the cup for €2.25, and by the 750ml bottle for €10.
Address: Carrer de la Mercè 17, Barrio Gòtico
Telephone: +34 93 315 2059
Hours: 1pm-2am
Avesta
At this labyrinthian cellar bar specializing in leche de pantera of various colors and flavors, the old, low wood ceilings and dusty antiques are simultaneously odd and intriguing. House shots cost €1.50.
Address: Carrer de Marquet 2, Barrio Gòtico
Hours: Tues.-Thurs. 8pm-2am; Fri.-Sat. 8pm-3am; closed Sun. & Mon.
L'Ovella Negra
This big classic beer hall and student mecca is a guaranteed good time. Classic tapas for a reasonable price, foosball, darts and billiards are housed in this huge, rustic, stone-walled tavern. Its Panther Milk is of the classic variety and serves as fuel for the mix of local and foreign youth living it up at this iconic hangout nearly every night of the week.
Address: Carrer de les Sitges 5, El Raval
Hours: Mon.-Thurs. 9am-2:30am; Fri. 9am-3am; Sat. 5pm-3am; Sun. 5pm-2:30am
This article Originally Published February 2015 on culinarybackstreets.com