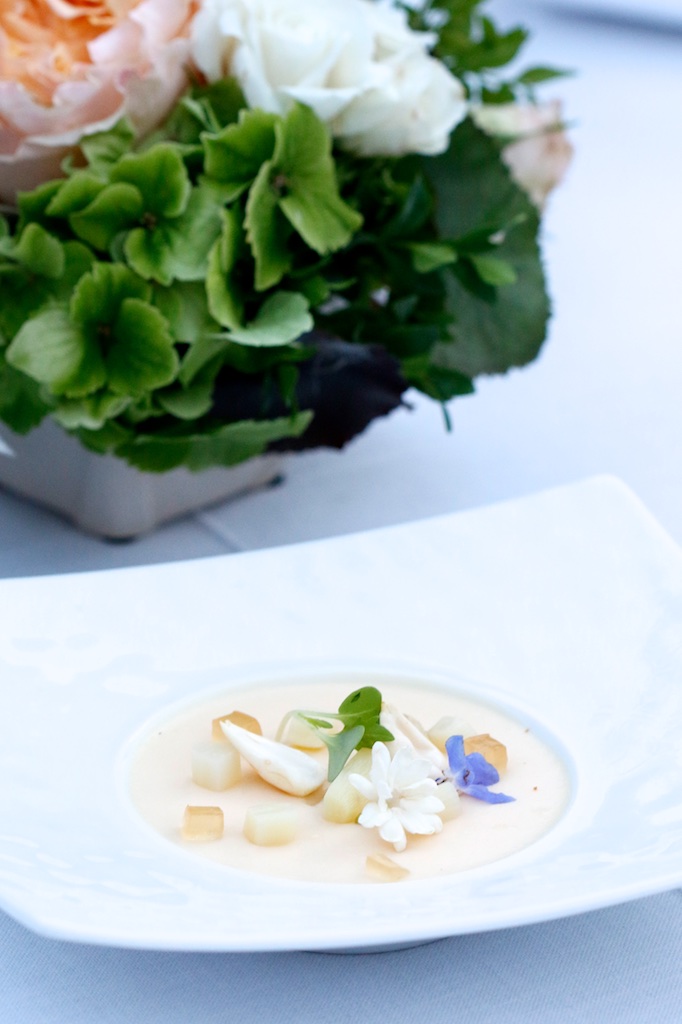 In mid June I had the pleasure of attending the inaugural event of an utterly unique campaign, hosted by La Roca Village outlets (with 130 boutiques and 8 restaurants), that merges the best of Catalan gastronomy, the creative work of two of Catalunya's most famous chefs, and modern summer fashion from one of the United States' rising street style fashion photographers. The Torres brothers essentially created ten unique dishes that then served as inspiration for the young Tamu McPherson when she conceptualized 10 vibrant summer "looks" that are being used as the striking visual aspect of this collaboration, on display online until the end of August. Check out the food photos and the outfits that they inspired! It is actually quite an interesting approach to cross-marketing that I can very much relate to. Follow #FashionMeetsFood on Instagram and Twitter to see the latest posts on this foodie-fashion mashup.
As the crowd gathered to watch the live cooking demonstration on a balmy summer evening to celebrate the launch of the Fashion Meets Food campaign, waiters passed through the crowd with tasty, bite-sized samples of some of the Torres Brother's other culinary inventions; quinoa with baby vegetables, marinated tomatoes, tuna tataki, and more. Surrounding the courtyard of this quaint, pseudo "village" were stands that represented the best of Catalan gastronomic tradition; quintessential food products, all from Clúster Gourmet de Catalunya.
From now until the end of August, Clúster Gourmet de Catalunya has erected an impressive display of the products that locals hold near and dear, in the Lobby Café of La Roca Village. Clúster Gourmet de Catalunya (a conglomerate of multiple artisanal food producers within Catalunya) wants to make the world of local artisan food products easily accessible to the international market. With many foreigners visiting these high-end outlet stores on the outskirts of Barcelona, it makes perfect sense that they would incorporate the best Catalan wines, olive oils, cured meats, cheeses, dairy products, and desserts into the La Roca Village shopping experience; "gastronomic souvenirs," if you will. I was lucky enough to score a delicious care package from Clúster Gourmet de Catalunya this week—Turrons from Torrons Vicens, Cava from Juvé i Camps, artisan yogurts from El Pastoret de la Segarra, "Coca" breads from Perafita, Pyrenees goat's milk cheese from Betara, and some delicious fuet from Embotits Salgot—which made for an outstanding Sunday brunch while staying cool in the powerful July heat.