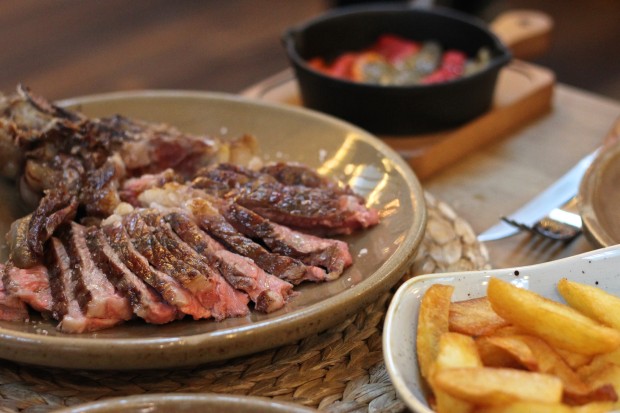 The mantra at El Nacional is "products from the peninsula". This grandiose shrine to the foods of Spain, Portugal and Southern France now occupies a massive building on Passeig de Gràcia, just above Plaça Catalunya. At the time of its christening in 1889, this impressive space held a majestic theatre, but later fell into the far less glamorous role of a fabric dyeing plant, car showroom, and ultimately a lowly car park. However, this beautiful Industrialist-era edifice has been meticulously restored (decorated by renowned Barcelona interior designer, Lazaro-Rosa Violan), and returned to the spotlight in early November. Open from noon until late, 365 days a year, El Nacional's 2,600 square metres have already hosted 80,000 diners in the first seven weeks alone. However, this high volume does not mean a lack of quality; quite the contrary. El Nacional consists of four bars (cocktails, beer and conservas, wine and cured meats, and oysters served with cava) and four eating spaces—La Llotja (fish), La Taperia (classic tapas and rice dishes), La Paradeta ('rapid delicatessen' and self-service) and La Braseria (grill), all of which stake their claim in offering top-quality food and drink.
While the list of pristine Iberian products is endless—cheeses, fish, wine, cocktails, oysters, sausages, canned seafood and more, one of the biggest draws is the La Braseria dining area of El Nacional and the prospect of experiencing some of the best beef you may ever taste. Purchased from the world-famous El Capricho restaurant in the small town of Jiménez de Jamuz (León), the beef at El Nacional is exquisitely-marbled and dry-aged for over 40 days, and comes from retired, blissful steers that live out their final years eating corn and wild herbs in the pastures of northern Spain. El Nacional is actually one of very few restaurants in the world to serve the famous meat of El Capricho, and the deep, beefy flavour of these expertly-raised cattle is likely to make all other steaks pale in comparison, in Barcelona or beyond.
Overall, El Nacional is an exceptional space with a lot of buzz surrounding it, considering it has only been open a few months and, with countless options and combinations to explore, it is safe to say that one visit is surely not enough.
Originally published in print in Barcelona Metropolitan magazine. January 2015